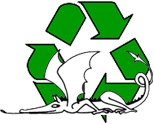 Our guide to being environmentally friendly in Oxford
Recycling
Most of what you need to know about recycling household waste in Oxford (collection days, what to put in which bins, the location of nearby deposit banks for other stuff not collected from your door) can be found on Oxford City Council's Recycling Page. Their Recycling Directory lists items alphabetically, telling you what to do with them. If you seek a pocket guide to local recycling points, get yourself a copy of our Map of Oxford. We have marked as many as we can.
Oxford is a fairly 'green' city, so most areas have some kind of home collection provision for glass, tins, paper and, more recently, card, plastics, food and garden waste. Apart from that, here are some common non-collected items, and what you can do with them:
Batteries
Household batteries, such as 6v, 9v, D, C, AA, AAA and button (watch) batteries, can be recycled alongside your normal rubbish collections across Oxfordshire. Mobile phone batteries, laptop batteries and lithium batteries can also be recycled in this way, as long as you put tape across the terminals of lithium ones.
For those within Cherwell, Vale of White Horse, Oxford City, or South Oxfordshire District Councils, household batteries can be popped into a clear bag (like a sandwich bag), and left on top of your blue or green bin on any weekly collection day.
West Oxfordshire District Council is slightly different. Batteries listed above can be recycled alongside "normal" black box recycling - no need for a separate bag. In fact, you can even recycle car batteries within West Oxfordshire - just leave them beside the black box on collection day.
For all other battery recycling needs, the Oxfordshire County Council's Find a Recycling Centre page will be utmost helpful.
Some shops have battery recycling points. Tesco Metro and Sainsbury's Local on the Cowley Road, Oxpens Road petrol station, Sainsbury's at Heyford Hill and the mega-Tesco on the ring road beyond Cowley are a few examples. Let us know if you know any more places and we'll add them here.
Plastic Carrier Bags
REDBRIDGE CANNOT RECYCLE THESE. Oddly, they are NOT classified as 'soft plastics' (see directly below). You'll need to take them instead to the large supermarkets on the ring road - Sainsbury's at Heyford Hill and Tesco at Cowley. They both have in-store deposit places.
Soft Plastics
These are the plastics not classified as 'bottles' and therefore not collected from your door for some unidentifiable reason. These include semi-rigid plastic food packaging and most other small plastic items with the universal recycling symbol on them (see top right of page, minus dragon). Stuff them into the banks at the rear of Tesco Metro on Cowley Road, or if in doubt, deal with them as bulk items.
Bulk Items
Fridges, rubble, you name it: if in doubt, take it to Oxford City Council's Recycling Centre, Redbridge, at the bottom of the Abingdon Road (01865 721464). Please note that if you are a business (ie. you arrive in a van), you will be charged. A very helpful chap has made a list of the various skips. Ace.
Giving it away for free
BUT FIRST: is what you want to recycle not quite rubbish yet? It may be someone else's treasure! You can list free items to give away on our Free Stuff page. Alternatively, here are some organisations that can find it a new home:
OxfordFreegle (formerly Oxford Freecycle) is a Yahoo Group which enables unwanted items to be exchanged STRICTLY without financial transactions (or trips to the tip!). You can now (2012) login with Facebook or Google - not just Yahoo - to join.
If you're a business doing a clearout, you may wish to try www.retrader.org.uk - they're an 'Oxfordshire materials exchange' handling large, bulky, or particularly business-specific items.
Orinoco Scrapstore has been doing the same thing with paint, scrap materials and tools collected from businesses for years, with the added advantage of a small warehouse you can visit like a shop. They also have bring-and-swap days.
Emmaus Secondhand Superstore at The Old Community Centre, Westlands Drive, Northway Estate, OX3 9QY (Mon - Fri, 9.30am-4.30pm; Sat 10am-3.30pm) collects re-usable furniture, electrical appliances and other household items, and then re-distributes them to people on benefits and low incomes. You can also buy from them (discounted if you're on benefits, an OAP or a student, full price if you're not). Call 01865 763698 or email [email protected]. They will even come and collect large items in their van, but you have to book two or three weeks ahead. Items for Emmaus must be in a clean, tidy, reusable condition, and beds or sofas must have a fire retardant label. They also accept bedding, books and mobile phones. Some charity shops will accept furniture too.
PCs and laptops
Got an old unwanted PC? Safe PC Disposal, in Abingdon, collect redundant equipment for free and reuse it by repairing or refurbishing - or recycling if all else fails. Incredibly, they send nothing to landfill! They accept other IT-related and electrical equipment too. Call them on 01235 532730 or email [email protected]
Metal Scrap
If you have a lot of metal scrap, you may wish to visit the salvage yard on Jackdaw Lane (off Iffley Road opposite Bullingdon Road), who may buy from you.
Waste Timber
Not-for-profit company Oxford Wood Recycling collects useable industrial waste timber and turns it into saleable firewood and wood for other home uses.
Mobile Phones
Environmental Mobile Control Ltd is a firm who will take away your old mobile phones, recycle them, and give money in return, to you or your nominated charity. See their site or call Recycling Manager Liz Simpson on 01283 516259.
Ink Cartridges
Reusing is even more useful in terms of energy/waste management than recycling. Click here for info on where to refill printer cartridges in Oxford.
Clothes
Recycle clothes by shopping at vintage and charity shops (see our list of them, complete with synopses of what the charities do) with the added benefits of raising money for good causes and looking unique!
Miscellaneous resources
• Oxford Brookes Environmental Information Exchange: 'a forum for the exchange of environmental information, primarily amongst small and medium sized businesses (SMEs) in Oxfordshire'.
• Recycling in Headington (full guide to facilities).
• Want to reduce waste in your community? Community Action Groups (5 in Oxford, 12 countywide) are volunteers who organise litter picks, swap shops (bring and takes), green shredding days and other events in their local area. More details on their website.
• Path to Freedom: The Urban Homestead is an excellent website documenting the progress of a Californian family who have "worked away at transforming their ordinary city lot in Pasadena, California into an integrated urban homestead". They support 4 adults on one fifth of an acre, which produces over three tons of organic produce per year, and are gradually reducing their dependence on non-renewable resources. So if you enjoyed "The Good Life" in the seventies, find out how to do it for real.
Healthy Living
You are what you eat, they say. Organic food is available from an ever-increasing number of Oxford outlets; at Daily Info we rather like the takeaway Alpha Bar in the Covered Market and Uhuru Wholefoods on the Cowley Road. The Alpha Bar has a sister shop, The Woodstock Deli (next to Brown's Restaurant on Woodstock Road), and a café/restaurant at the University Church on the High Street. There are farmers' markets in east Oxford, Headington, Wolvercote and central Oxford, and several organic veg box schemes cover the city: have a look at our Festivals, Fairs & Markets and Food Shopping pages for specifics.
You can buy 1kg of Fair Trade items including cakes and tea bags (440 bags for £8.99 - at around 2p/bag, that's possibly cheaper than Tescos and definitely better for everyone concerned) at Oxfam on Broad Street and Cowley Road. A broader range of gift items and household goods can be found in the Fair Trade shop beneath St Michael at the Northgate Church on Cornmarket. If it's chocolate you're after, you may be interested to know that ALL of the Co-Op supermarket's own-brand chocolate is Fairly Traded.
Our page on Pick Your Own farms in the Oxford area can be found here. They tend not to be very organic but our proprietor holds that it's the only way to get properly fresh sweetcorn.
What's wrong with the supermarket anyway? You may be bored of famous chefs banging on about right-on food, but not possess the facts to back up your suspicion that they're right. The Ecologist provides lots of useful (scary) articles about the food on our plates - and plenty more besides.
Other Useful Stuff
What can you do to minimise your ecological footprint to a dainty size 3? Look to your energy use for starters. Good Energy is one site offering electricity on a 100% renewable basis. Ecotricity is another. An interesting article (again from The Ecologist) about how this works (or doesn't) is available here (thanks to Paul P for the link).
The Energy Saving Trust can, as you might expect, tell you how to save energy. They also have a free, impartial energy saving advice line (0800 512 012), send out energy packs on request and can do short presentations for local community groups.
There is a growing number of car clubs across the country: Oxford is currently supported by two such organisations, offering a dozen cars on a pay-as-you-go, instant-access rental basis across the city. These offer access to cars without the financial hurdles of ownership, improving mobility across the community. They can also reduce congestion: each established UK car club vehicle replaces between 5 and 11 privately owned cars, and the figure is higher in London (www.carplus.org.uk): see our Car Hire and Car Clubs page for details of the Oxford schemes.
Get healthy and save the world in one smooth move: convert your car into a plant pot, sauna or a climbing frame (or donate it to a car club, above!), and use some sustainable transport. Cyclox exists to encourage Oxford's citizens to get on their bikes, with fun events, maintenance advice and campaigning; Sustrans offers UK cycle route maps and more; Liftshare helps us all feel less guilty about those essential cross-country trips by enabling journey-sharing. See also our page on Public Transport in Oxford. The newest addition to provision in this field is OxonCarts, Oxford's very own bicycle rickshaw company, available for hire 7 days a week.
Got your own publication, and concerned about the environmental effects of producing it? Oxford GreenPrint is a small, friendly, environmentally-conscious and affordable printing and design company based in East Oxford. If you need more comprehensive green office supplies (from copier paper to loo rolls and coffee), try Bristol-based Green Stationery (www.greenstat.co.uk).
A shocking number of readily available fish are becoming threatened and even endangered. Read about the overfishing crisis here and see fishonline.org for lists of what to buy and what to boycott. You might also be interested in Taras Grescoe's Bottomfeeder, a Bill Bryson-like tour of fishing communities and survey of what's left in the sea and how to help stocks recover.
You can buy rainforest as a gift (for a friend or simply for future generations) at many places on the internet. We favour doing so through the World Land Trust, because David Attenborough is one of their patrons, so they're likely to be reliable. It costs, at time of writing, only £25 / acre (that's 208.7 feet x 208.7 feet).
Always fancied the idea of keeping chickens, but never got round to doing anything about it? Here's a chance to rectify the situation and do something nice at the same time: by rehoming the hens regularly cast off by the battery farming industry (saving them from becoming the chicken flavouring in soup, pot noodles and crisps). Unsurprisingly, these birds tend to be great layers, and will live 4 or 5 years after rescue. They can also make great pets! Visit the fabulously comprehensive British Hen Welfare Trust website for full details: www.bhwt.org.uk/.
Here's another hot tip, this time involving vinegar. Distilled vinegar is an amazing cleaning product. It's cheap (two small bottles from the Continental Stores on Cowley Road were a total of 65p in June 2011), it's environmentally friendly (containing none of the nasty chemicals of conventional domestic cleaning products, which end up in our water supply and poison the fishies) and it works like a miracle. The most impressive thing you can do with it in a hard water area like Oxford is remove limescale. Boil it up with some lemons in a kettle to completely descale it; put it in a spray bottle and squirt it on your glass shower screen to completely remove all water marks; mix it up with baking soda to make a mean cream cleaner to shine up your chrome fixtures. This may sound a bit 1950s but once you've tried it, you'll never reach for the Cillit Bang again (and your landlord won't take your deposit to pay a professional cleaner to get the scale off your taps).
Something missing? Do let us know!